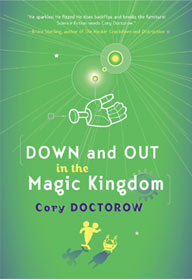 The Playlist inches toward drinking age. On the flip side, have you noticed that those old geezers The Rolling Stones are everywhere these days?
Down and Out in the Magic Kingdom. Cory Doctorow.
Doctorow's sci-fi comedy takes place in the not too distant future when death has been cured. You simply take the last reboot of your system and add it to a clone. And thanks to the work of the Bitchun Society, Whuffie is the currency. Your Whuffie score is based on how well-respected and liked you are. (I guess it's not much different than how many friends you have on My Space.) So Doctorow takes this futuristic premise and sets it where?
In Disney World.
A group of volunteer ad-hocs had long ago taken over the Magic Kingdom and continue to run it. Julius is out to save the landmark attractions, ensuring they don't go too hi-tech and, therefore, lose their essence. After he's shot and killed (his third death), he returns, but things start to go haywire.
If you're not a regular reader of sci-fi, like me, this is a great entry. It's short, fast-paced and pretty darn funny. I'd be interested in knowing what dedicated sci-fi readers think about this book.
The author Cory Doctorow is a pretty busy man. You can check out his own Web site – craphound.com or the interesting boingboing, to which he regularly contributes.
And the buzz is huge on his new book, coming out later this month -- Little Brother.
Strangers Almanac. Whiskeytown.
The last album Whiskeytown released before they broke up was marred by personnel issues. Despite adding a whole new rhythm section at the last minute, Ryan Adams and crew created a touchstone of alt-country.
Strangers Almanac is one of the top five albums in this genre, and most likely the best that doesn't involve someone named Tweedy or Farrar.
Why so good?
Start with Ryan Adams' songwriting. It stays consistent throughout, whether he's telling a heartwrenching tale like the album highlight Houses on the Hill or the more rocking Yesterday's News. When they lean toward country, as they do in Excuse Me While I Break My Own Heart, the band finds the right balance of rock. Phil Wandscher's guitar always kicks in at the right time. There's great chemistry throughout, particularly between Adams and violinist/singer Caitlin Cary.
Recently Strangers Almanac got the deluxe treatment. The new edition adds more than 25 new songs, many just alternate takes of songs already on the album. But there are two covers worth checking out – Fleetwood Mac's Dreams and Gram Parsons' Luxury Liner.
Besides Ryan Adams' big ambitions, the band fell prey to weighty expectations. Listen to this album and it's easy to see how they were compared to The Replacements (one scribe called them "country and Westerberg") and dubbed the Nirvana of alt-country.
If you're at all interested in the alt-country genre, this is where to start.
Let it Bleed. The Rolling Stones.
Yep, the Stones are everywhere, even in my favorite electronic music store. Their excellent early albums were recently added to eMusic. It reminded about this classic, my favorite Stones album, which I listened to pretty heavily this week I'm still more a Beatles man, but I see myself devouring the rest of Mick and Keith's early catalog on eMusic.
The Ruins.
So you know I'm not a sci-fi reader. I'm even less of a horror film fan. Give me suspense and I'm in. But if you're all about blood and gore, I'll skip. But I had really enjoyed Scott Smith's book and the film adaptation of his other book A Simple Plan.
The movie was OK. The script, written by Smith, held close enough to the book with a few differences to keep me interested. It's about two young post-college age couples who meet up with a German and a Greek on a Mexican vacation and end up stranded at a Mayan ruins.

Very intense at times. It wasn't completely free of horror cliches. There was some blood. And the writers found a way to keep one of the attractive female leads in her underwear most of the film. And the ending was different from the book, and a bit disappointing. Overall, a decent movie. But if you haven't read the book, I'd suggest you start there.
Interesting note: The movie was produced by Ben Stiller.

Other songs I've been enjoying...

It was also all about the covers this week, as I enjoyed these terrific remakes:

-- Woodstock, Richard Thompson
-- American Girl, Roger McGuinn, Born to Rock and Roll.
-- Dancing Queen, The Yayhoos.