This week's Playlist is shorter than usual, and focuses on two things -- a certified quack and a folk legend.

Charlatan: America's Most Dangerous Huckster, the Man Who Pursued Him and the Era of Flimflam.
Pope Brock.
Every time you hear a commercial for some Viagra-like stimulant on the radio, you can thank Dr. John R. Brinkley -- and I do use the term doctor loosely. If you're a fan of Erik Larson's books, I highly recommend this account by Pope Brock. While undeniably a quack, Brinkley was also quite the innovator. His runs for governor introduced campaign tactics still used today. His "border blaster" radio stations introduced Americans first to country, then later to blues. (He's actually mentioned in the ZZ Top song
Heard it on the X
). And while the rest of the country was struggling through the Depression, Brinkley was raking in millions. But the foundation to his fortune was built on goat glands. And there is the very dark side. Goat testicles were used in a needless and, quite dangerous, operation that Brinkley did numerous times, promoting it as a way to restore sexual vitality. The operation led to countless deaths and complications. Despite that, Brinkley built a devoted following -- enough so that he probably won the popular vote in his first run at the Kansas governorship. The book also follows the efforts of Dr. Morris Fishbein, editor of the
Journal of the American Medical Association
, who tries to shut Brinkley down. And there are brief cameos by more famous people -- Sinclair Lewis, Eugene Debs. A fascinating tale.
White Buffalo.
Recognition.
Tale of Two Americas. Rod MacDonald.
There are hundreds of recording and performing folk artists out there, but there are relatively few treasures. And South Florida has one of them in Rod MacDonald. One of the keys of the Greenwich Village folk revival in the early 80s, MacDonald moved to Palm Beach County in the mid-1990s, and has continued to perform and record. I've seen him several times at folk festivals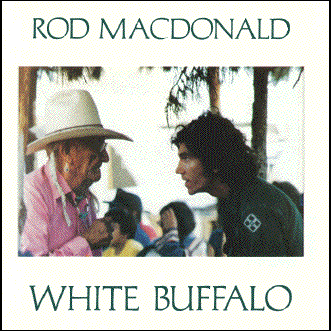 , house concerts and in clubs. He's an extraordinarily gifted songwriter who does the topical, humorous and touching folks songs equally well -- think Phil Ochs, Loudon Wainwright and Bob Dylan all wrapped in one. On his newest disc
Two Americas
(2005), he takes a jab at all-too-common Dylan/folk comparisons in
I Am Bob Dylan.
He also tackles California's famous
Governator
, our country's need to have an enemy, and what you are missing when you leave the bar to get a smoke.
The album kicks off with the biting
Ray and Ron
, as Rod sings about the differences between Ray Charles and Ronald Reagan, who died within a week of each other.
Recognition
(2002) contains the haunting
My Neighbors in Delray
, which tracks the Sept. 11 terrorist who attended flight school in South Florida, and the funny
Dr. Gachet
, which traces the path of one of Van Gogh's last paintings. The highlight is the lovely ballad
You Who Sleep Beside Me.
White Buffalo
(1985) is a folk classic. The
Boston Herald
called it "one of the towering achievements in modern folk music." You may have never heard the title track, but you'll feel as if you have. It's a memorable song from a gifted artist.
How gifted? These days, Rod plays mostly acoustic, but he's actually a part of several groups, including the Dylan cover band Big Brass Bed and the Irish/bluegrass string trio Cleopatra's Noodle. He often plays traditional Irish music with Tracy Sands. And he's taken part in a performance of songs of George Goehring in My Life in the Brill Building. Dave Van Ronk, Christine Lavin and many others have recorded his songs.
You can find some of Rod's music on Amazon. His older 80s work, including
American Jerusalem
, can be found on
eMusic
. Or you can visit his
Web site
or
My Space
page for more information.
And I leave you these week with a sample of Rod's work --
Smoke
and
White Buffalo
.