As a writer, it's embarrassing when you make a mistake that gets into print. Almost as bad is when your mistake doesn't get into print, but earns you the laughs of your editor.

I

was only a few weeks into my first post-college professional job when this happened to me. I had just sent my story, coverage of an afternoon high school baseball game, to my editor and breathed a sigh of relief.
He opened the story right away, read for a couple minutes, then laughed.
Out loud.
In the newsroom.
What was the cause of this? I used the phrase "for all intensive purposes" instead of "for all intents and purposes."
I always heard it as "inten
sive" so that's what I wrote.
Yes, I kn
ow. That's really not that funny. Why it could make my editor even chuckle is beyond me. But for a young reporter, still lacking in self-c
onfidence, the incident was upsetting.
Here, though, is the funny thing. About 18 years later, I can now confidently
tell my
sports editor that I did not make a mistake that day.
I made an eggcorn.
What's an eggcorn? Read down a little and you'll find out. In the meantime, let's start off this week's Playlist with a book about another man
who had a way with words.

The Man W
ho Made Lists: Love, Death, Madness and the Creation of Roget's Thesau
rus.

Joshua Kendall.
Peter Mark Roget had a long and, somewhat, distinguished career in science and academics. In fact, one day while looking out his window, he saw a carriage move down the street and noticed the illusion created by the moving wheels. This observation indirectly led to the creation of film. Think of that when you go see Batman this weekend.
Most will remember Mr. Roget for one thing -- his thesaurus. We've all used it. On rare occasions, it's a guide when we're searching for the right word. But mostly it's a crutch or worse, a tool to make us look smart. (Pick the wrong word, though, and it makes you sound pretentious).
Roget's thesaurus sprang not from his love of literature, but more from his anxiety. Roget's father died when he was young and his mother took it hard. She was never the same. From early in life, Roget found comfort in making lists. His mother wasn't the only one in his family touched with madness and Roget, whose first wife died very young, fought back depression most of his life.
I wish Kendell would've spent more time on the actual thesaurus. Still, he weaves a somewhat captivating story of Roget's life, aided by some interesting characters along the way -- including the doctor who coined the term "bibliophile" and Benjamin Franklin's illegitimate son William, who is featured in this week's Wikipedia link.
Eggcorn Database.
Eggcorns got their start a while back on a group blog written by linguists, when someone reported the usage of "egg corn" instead of "acorn." From the database:
It turned out that there was no established label for this type of non-standard reshaping. Erroneous as it may be, the substitution involved more than just ignorance: an acorn is more or less shaped like an egg; and it is a seed, just li
ke grains of corn. So if you don't know how
acorn
is spelled,
egg corn
actually makes sens
e.
Eggcorns are sort of like malopropisms. But there is a huge difference -- they ma
y actually make more sense than the correct word. The Eggcorn Database collects these words, such
as: a

pigment

of someone's imagination,

baited

breat
h, cut to the

cheese

, and many more.


Stay Positive. The Hold Steady.
What's this? A theramin. A banjo? And the banjo played by the guitarist from Dinosaur Jr.? Yes, that's the new Hold Steady. But in reality, the new Hold Steady is the same as the old Hold Steady, except with a few new instruments and a couple guest appearances. It's still all about the guitar riffs and Craig Finn's talk-singing -- a Bruce Springsteen and Thin Lizzy meet somewhere in punk combination. And despite a couple thunkers, it's an album worth owning.
See my full review on
Princeton Record Exchange Blog
.
GOOD Magazine.
I finally got around to reading this magazine, which I picked up a few weeks back. It gives a very insightful and interesting look at Olympic host China. The magazine explains why we should care about the country and why, despite its human rights abuses and pollution, China is not so different from us.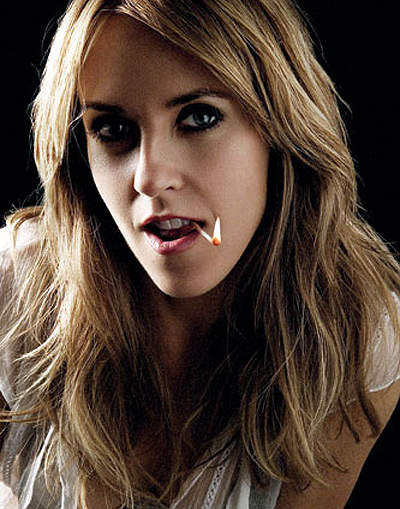 Good is well-designed, written and packaged. And here's the best part. If you subscribe online, the money goes to one of a selection of charities -- and you make the choice who it goes to.
Exile in
Guyville

. Liz Ph
air.
It's a testament of how good
Exile
is that Phair still has a career. She still regularly pops up in indie rock music mags even though she's created very little worthwhile music since her classic debut. I'm sure her looks have something to do with that.
Exile
got a 15th anniversary re-release this month and it's been a joy revisiting Phair's biting lyrics and lo-fi approach.