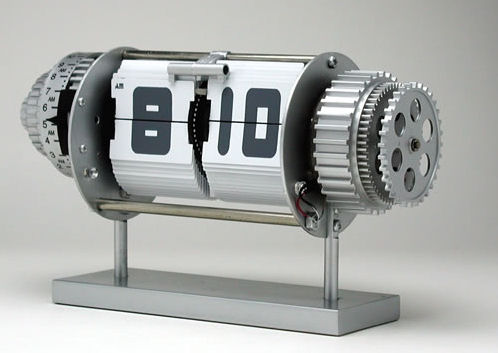 My son, like most teenagers, isn't that good at getting up in the morning. He once slept through a Cat 1 hurricane.
A couple years ago, we had to give up on the alarm clock. He slept through the blaring buzz that woke up our hard-of-hearing neighbor next door.
So I started waking him up. Being the good parent, I always shook him softly and said something like: "Come on buddy, time to get up." Or, you know try to add that extra little incentive. "Come on pal, wake up. It's Thursday, almost the weekend."
Regardless of what I'd say, my son's reply was the same: "Rrrffggrrffrrffeddffffff." Then he'd roll over away from me.
Then my son had an idea. What if I woke him up in a way that got his adrenalin going. (Yes, his suggestion). So, the next morning, I walked quietly to his door, then ran in and shook him and said, "There's a bear in the house!"
He sat right up. Smiled. And then laughed. And said, "That's funny Dad."
Here I was
use to hearing grumpy caveman sounds. And I got a pleasant reply.
At 6:45.
That's A.M.
But the bear thing wouldn't work again. So I had to try something new. I went through a whole week with zombies, asteroids and disappearing pizza. I finally ended up last week with: "Andrew, you have to get up. Dane Cook ran out of jokes and he's starting to kill people!"
Now it's me running out of material.
And I need help.
Please send me some scary wake-ups I can give my son. Hit comment below and leave me a suggestion (and leave your name). Or e-mail me at dangephartAThotmailDOTcom. I'm going to try all the suggestions I get. And the suggestion that is most effective in waking up my son wins a copy of
The Better of McSweeney's --
a wonderful collection of short stories.
Now onto the Playlist ...
World Series
The Phillies played pretty poorly on Thursday night, but the series is even and it's coming to Philly. My usual Philly self is, of course, sure that we're doomed. But I'm trying to keep the hope. One thing I know for sure. With these late games, I'm not getting much sleep.
Meanwhile, check out these two Phillies-related features:
-- The
Tale of the Tape
between the two Ryan Howards.
--
Celebrity World Series picks.
Tom Arnold picks the Phillies. We don't get much swimsuit model support. And Warren Sapp is still a jerk.
The Garden of Last Days.

Andrew Dubus III
Dubus' rich writing infuses real depth to his characters, allowing the reader to feel both repulsion and apathy for the string of unsavory people -- a stripper, a terrorist and a wife-beater. Based on t
he idea that one of the 9/11 hijackers stopped at a Florida strip club before the attacks, Dubus' novel is gripping. When her landlady/babysitter becomes ill, April is forced to bring her daughter to work at the Puma strip club. As the night unfolds, April's attention is turned away from keeping an eye on her daughter and the drama unfolds.
One note to the editors: Delray -- as in Delray Beach -- is one word not two (Del Ray).
Rapid Response.

Ted Leo/Pharmacists.
It's great having Ted back, especially before the election. It's only an EP -- just four songs. But the punk-popper rocks hard and, as usual, with a message. This digital EP was recorded in just a few days in response to the "real people" who had their rights trampled upon during the Republican National Convention. According to
Deep Cutz,
proceeds go to help those
protesters with their bail, as well as to Democracy Now! and Minnesota - Food Not Bombs.
Inside the Human Body.
Ezra Furman and the Harpoons.
Who is this Ezra Furman? emusic described him as Conor Oberst with a bus to catch. To me, he sounds like another alternative rocking wiseacre, like the Violent Femmes' Gordon Gano. But damnit, if he doesn't write some fun songs. And the three-piece band is solid whether the songs tilt to blues, rock or punk. A fun album. Want some free downloads? Check out Furman's band at
Daytrotter
. Or, as always, you can listen to the music on the Hear This! feature on the right hand side of the page.
Who invented the alarm clock? Check out our
Weekly Wikipedia link
to find out.
Now my attention this weekend turns back to sports -- the World Series, the Eagles back off a bye week, and Penn State trying to stay unbeaten by finally beating Ohio State!
Go Phils!
We are Penn State!
E-A-G-L-E-S!