Time for another edition of I Don't Get it, where I drop my positive vibes, if only for a day, and try to figure out what in the world is going on. Do you disagree with me? Then please leave a comment and let me know. Or let us all know what you "don't get."
1. Ted Nugent.
It was never meant for me and Gonzos. I'm a liberal vegetarian who likes
good
music. The Motor City Madman has aversions to all three. But why Nugent now for the I Don't Get it list? The Nuge is such a huge idiot that he could help carry this feature for the next year. But what caught my eye this week was the cover for his upcoming album
Love Grenade
, which shows all the usual class and taste "Sweaty Teddy" is known for. I didn't want to post the photo on my site, but you can find it, along with some other disturbing images, in
Pitchfork's list of the 20 worst album covers of the year
. Quick side story: Many years ago, I and a friend of mine tried to make the phrase "Ted Nugent sucks" our standard casual greeting, like "hello" and "how are you." We brought it out at restaurants, record stores and other public places. Unfortunately, it didn't catch on. All we got was a lot stares.
2. Joey Vento.
The owner of Geno's Steaks in Philly received national attention when he posted the sign below outside his, ahem, restaurant. The Philadelphia Commission on Human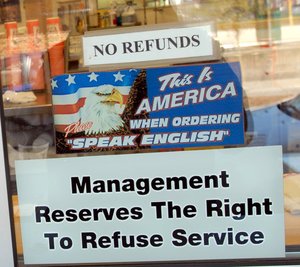 Relations charged that Vento discriminated against non-English speakers. The media madness continued this past week when the six-hour hearing on the charges was held.
Here's the issue: Philly's immigrant population has reportedly doubled in the past decade. The Italian Market (home to Geno's and Pat's Steaks) isn't all-Italian anymore. Many of the new immigrants speak two languages, including English. If their English is good enough for them to make an order, let them order. It seems Mr. Vento's problem isn't just with those who don't know any English. He seems to have a distaste for those whose English "ain't as good as his is." It's a dumb business move, but more so it's mean and belligerent. Still, what I really don't get is the amount of support he's getting from the citizens of Philly, as shown in this recent
poll
by philly.com. Makes me pretty worried about the quality of the people in the city I once (and often, still do) call home.
One more thing: If you're heading to Philly and you must have a cheesesteak, here's my suggestion: Skip the Italian Market and go to Jim's Steaks on South Street. If you see me there, I'll be the one ordering the veggie sandwich.

3. E
agles apathy.
All right, I'm keeping up my rant on Philly. Tomorrow is Birds and the Boys. Yet what I am reading and hearing is that fans just aren't excited. Come on guys, it's Dallas we're talk
ing about here. The villians. The bad guys. And look, if you made it through the Marion Campbell and Rich Kotite eras, you've seen much much worse than what we're going through this season. The Eagles are not as bad as they seem. They'll need to make some critical moves in the offseason to improve at a few positions. But I really think the talent level between them and the 9-4 Giants is not that wide. Do I think the Eagles are going to win tommorow? Absolutely not. But I feel that way about most games. Yet, when 4:15 rolls around, I'm going by the TV set (thanks Sunday Ticket!) screaming, booing and cajoling the Eagles to victory. Are you looking for some hope?
Iggles Blog
gives you four reasons why the Eagles can win.
So now that we ended my weekly rant on a note of optimism. Just three more words to say.
Ted Nugent sucks.